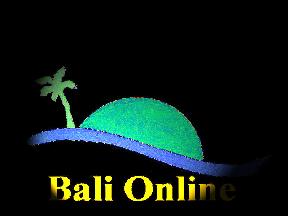 NC-17: The Not-So-New-yet-Still-Very-Cool
The NC: New and Cool page has the newest of our cool stuff.
Holiday Inn Resort Balihai: A four-star resort on the beautiful Tuban Beach.

C. V. Satya: Balinese style silver and gold jewelry.

The Forum. Share your favorite spots in Bali and Indonesia, or your precious travel stories. Steve Gill has his Most Excellent Adventures in Indonesia here.

Bali Online was just recently featured in two front-page articles in Bali Post, the premiere newspaper in Bali. This is a rough translation of the two articles.

Spice Island Cruises: 3 or 4 night cruises and live-in diving adventure to Sumbawa, Komodo, and Lombok.

Indonesia: Destination Nature lists a number of nature reserves and other places in Indonesia to observe its rich flora and fauna.

Eka Gallery of Bali Photos with photographs from Galungan and Odalan in Jegu Village in December 1995.

What's the weather like in Bali? Tropical, of course, but if you must see the average temperature and humidity...

A summary of places to visit in Bali in one page. Print it and take it along with you...

Yulia Inns: Stay inexpensively at the heart of Kuta and Ubud.

Syarikat Ginting, DVM a Bali Veterinarian on the Net.

The Grand Mirage Hotel: A five-star resort at the heart of Nusa Dua.

Ena Dive Center: For your diving needs in Bali.

The U.S. Tour schedule of the Gamelan Gunung Sari of Peliatan, Bali. If it's coming near you, go see it!

Check out the new Calendar of Events for 1996 to allow you to get the most of your time in Bali. And a more complete list of Temple Festivals (Odalan) this year is also available.

The Distance Server tells you the distance, as the crow flies, from one city to another. Mostly U.S. cities now, but international destinations (like Denpasar, Bali, of course) are coming soon.

The java of Bali. Brighten your morning or enlighten your afternoon with a cup of Balinese coffee.

A very nice way to find the address and phone number of the Indonesian Embassy closest to your home! Check it out...

A contrarian to "I want to avoid touristy areas..."

This site!

What? Don't you think this is cool? Or is it hot?
Please enjoy your virtual visit to Bali. We intend to make it as informative as possible. And do send us a postcard...


[.Home.] [.Hotels.] [.Food.] [.Money.] [.Events.] [.Resources.] [.Jakarta.] [.Industry.]

Copyright © 1995-1997 Bali Online
Artwork designs by Margaretha Hutauruk. No part of these Web pages may be reproduced without written permission from Bali Online. We do encourage you to create a link to our humble Bali site, and to add our pages to your bookmarks.