Bali Vet on the Net
Syarikat Ginting, DVM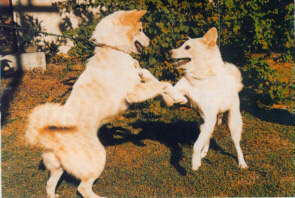 You saw a pair of Kintamani dogs and you fell in love.
Now you want to take them home with you.
What do you need to do?
Syarikat Ginting, DVM
Phone/Fax: (62-361) 720-320
Licensed Veterinarian
Transfer permit to bring pets out of Bali
Vaccinations
Grooming
Your pets health care and needs

Member of Association of Doctors of Veterinary Medicine of Indonesia



[.Home.] [.Hotels.] [.Food.] [.Money.] [.Events.] [.Resources.] [.Jakarta.] [.Industry.]

copyright © 1995 Bali Online Inc.
No part of this Web page can be duplicated by any means for any purpose without a written permission from Bali Online, Inc. We do encourage you to create a link to our humble Bali site, and to add our pages to your bookmark/hotlist.