The Best Place to Find Tourists
To those who want to be contrarians to "I want to avoid touristy areas...," this is just the place for you! See if you can guess from this picture: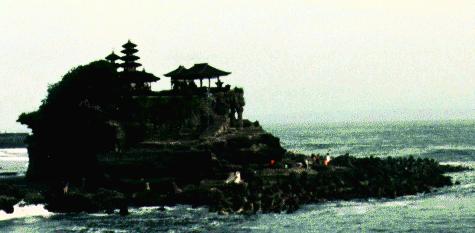 Yup, it is Tanah Lot. But just because you are sharing a wonderful sunset there with your fellow human beings, it does not mean that you should not visit the place. It's quite the opposite. Go there any afternoon, and be amazed with the experience of sharing a sunset with possibly tens of thousands of eyes, all in awe.



[.Home.] [.Hotels.] [.Food.] [.Money.] [.Events.] [.Resources.] [.Jakarta.] [.Industry.]

Copyright © 1995-1997 Bali Online
Artwork designs by Margaretha Hutauruk. No part of these Web pages may be reproduced without written permission from Bali Online. We do encourage you to create a link to our humble Bali site, and to add our pages to your bookmarks.