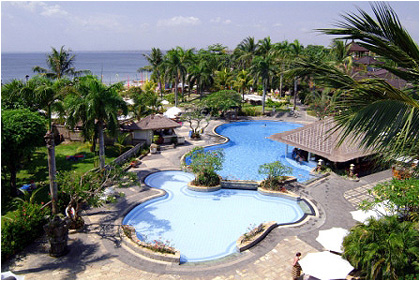 Ideally situated on three hectares of beautiful tropical gardens along 400 meters of white-sand beach in Tuban, Balihai Resort & Spa offers 200 luxurious guest rooms, Balihai Suites and Villas with private pool. All units have individually controlled air-conditioning, private balcony or terrace, IDD telephone, refrigerator, hair-dryer and satellite television. Deluxe Rooms have exotic Balinese-style-bathrooms. The resort's atmosphere is very friendly, relaxed, open and truely Balinese.
| | |
| --- | --- |
| Superior Room | Deluxe Suite |
Come to a land where vibrant culture rhythms strike a perfect harmony with breathtaking and tranquil surroundings. Encounter a people whose mystical ways are enriched by a gentle and gracious culture. Discover the best of both worlds in Bali with sun baked beaches, tempered by lush cool rain-forest, at Balihai Resort & Spa... A familiar face in an exotic place.

| | |
| --- | --- |
| Family Suite | Kiddy Suite |

Room Facilities:

3 Floors, 200 rooms: 01 Balihai Royal Suite, 02 Villas, 09 Balihai Suites, 12 Deluxe Suites, 12 Family Suites, 13 Kiddy Suites, 151 Superior Rooms
All rooms include individually controlled air-conditioner, private bath, shower, direct dial telephone, minibar, hairdryer.
Tea & coffee making facilities.
Private balcony/terrace.
Satellite television, radio.
Non-smoking rooms available.
Connecting room available for families.
For further information, please contact us:
Balihai Resort & Spa
E-mail: balihairesort@indo.com
| Home | News | Hotels | Food | Money | Events | Resources | Jakarta | Industry |
Copyright © 1995 - 2006 Indo.Com - All rights reserved