Savour Delightful Spa Experiences in Bali
Weariness and tension resulted from daily routines, weeks of conducting meetings or doing deals in hectic cities may affect your body and mind. To unwind, find a retreat in Bali where you can savour delightful spa experiences in the luxuriant greenery of tropical gardens. A number of retreats at hotel resorts and villas have various messages-based treatments specially designed to reinvigorate the body and clear the mind.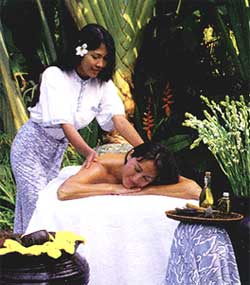 Spas in Bali have recently sprung up like mushrooms in the rainy season, with virtually every tourist resort offering healthy treatments on the island. Different types of massage, body scrubs with traditional ingredients, indoor or outdoor Jacuzzis with natural or mechanically heated hot springs are offered everywhere.
Bali, just a short flight from the frantic capital of Jakarta, is another world. The slow pace of life and the natural beauty and hospitality of the people are just some of the ingredients that foster a spirit of relaxation. In addition, the ability to merge the best elements of both Eastern and Western health and the fitness techniques makes Bali a popular choice for spas.

The retreats are designed in typical Balinese village style with free-standing villas and open-air pavilions fringed by palm trees. Every retreat has its own spa ingredients, with many taking advantage of their Spa's own garden - a natural pharmacy. Particular hotel resorts are seen offering the Balinese body polish, a traditional Balinese treatment using a crushed 'boreh manis' of cloves, sweet woods, nutmeg, ginger and cinnamon, to increase blood circulation and relieve aching muscles and joints. A number of retreats also offer spa cuisine, Champagne, discreet butler service and a choice of treatment which includes a Balinese massage, foot and bath scrub, scalp treatment, flower splash and spiced bath.
Several particular hotel resorts take advantage of the ocean. They employ thalassotherapy - revitalizing treatments that use seawater and seaweeds to ward off the effects of stress, tension, blood circulation problem, excess kilos and heavy smoking habits.
Couples can check out a hotel or villa that offers a variety of relaxation choices, such as an outdoor dip pool with sun lounge, sauna, whirlpool, Swiss shower with steam bath, in addition to massage or body treatments.
The popularity of Balinese spas is beyond doubt, but it is only by trying it out that you will really understand why. Escape from the frenetic world outside and indulge in the well-being of mind and body at retreats in Bali.

To find hotel resorts offering spas, visit www.baliforbeauty.com.