highlights
Playing Golf in Paradise
If you are in Bali and wish to play golf, then you are in the right place with the right plan. Golf courses around the world may have their similarities, but Bali, the island of paradise with the surrounding beauty of its lakes, ocean and mountains and padi (rice) fields, is sure to provide you with a quite unique golfing experience.

The island currently has five incredible championship golf courses, most of which were designed by the world's top designers such as Peter Thompson, Michael Wolveridge and G. Hardy. These are Bali Golf and Country Club (BGCC), Nirwana Golf and Country Club, Bali Handara Kosaido, Grand Bali Beach Golf Course and Ritz-Carlton Bali.

The fame of Bali as golfing destination was proven when in 1997 Fortune Magazine of the United States selected Bali Golf and Country Club (BGCC) as one of "Asia's 5 best golf courses". Along with Nirwana Golf and Country Club and the Bali Handara Kosaido championship courses, the BGCC put Bali on the world-class golfing map. Here in Bali, as in other tropical countries, the best time to play golf is in the early afternoon. It is generally easy to get a reservation, but is still a good idea to book in advance in case the local Denpasar Golf Club is holding a tournament. Charming young trained caddies are available and Green Fees and Club hire are very reasonable.

Each golf course has its own charm and challenge. If you are a discerning golfer who is fond of nature, check out Bali Handara Kosaido Country Club. The course is nestled 1,142 meters above sea level within the slopes of an extinct volcano crater, with walls of dense forest at the back, and a tranquil lake at the base of the valley.

Numerous incredible golf holes await you at the varied and challenging golf courses in Bali. So keep playing, as golfer and course architect Arnorld Palmer said, "The more you play, the better you get." Happy golfing!



BALI GOLF AND COUNTRY CLUB (BGCC)
Located in the luxury tourist resorts of Nusa Dua, BGCC offers different types of tropical golf course design, providing golf enthusiasts with a world championship 18 hole golf course in a spectacular seaside setting. The 6,314meter course has a par of 72. The Nelson/Wright-designed course ensures playability for all levels of players with multiple tees of a variety of distances. Expert course grooming and superb maintenance assures championship playing conditions every day.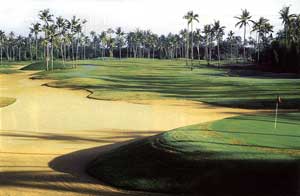 Another treat at BGCC is the amazing variety of birds that nest around the course's ponds and lakes. The 17th and 18th holes run along the seashore and are dream-like in their perfection. And the 9th, 17th, 18th, and the 19th, (the Clubhouse), are favorites for beginners.

Want to take a rest after playing? Have a seat by the outdoor "Bale" bar and enjoy your beverage in fresh air. If you prefer to be indoors, just take a seat at the "Barong" restaurant on the lobby level of the Clubhouse where you can enjoy the Indian Ocean and green garden.

Club facilities include a driving range, two putting greens and a chipping practice green. Caddies and carts are required, and the cart cooler box is stocked with beverages. The locker rooms have showers and changing facilities. A pro shop, spa and a swimming pool complete the facilities.

NIRWANA GOLF AND COUNTRY CLUB
Nirwana or nirvana is the name of the newest Golf course in Bali. It was designed by the famous golfer, Greg Norman. This course has 18 challenging holes that cover more than one hundred hectares along Bali's southwest coast with backdrops of volcanic mountains, Bali's Indian Ocean coast, and Tanah Lot temple, one of six holy temples in Bali. Opened in 1997, most of the par 72 course wends it way through rice terraces lined with more than 3,000 palms interlaced with natural creeks. Three holes lie along the Indian Ocean with dramatic cliff drops to the sea. The breathtaking view from the 7th tee frames Tanah Lot temple in the distance The Nirwana par three 7th has to be one of the most wickedly designed holes in the world. And its Clubhouse is of a standard expected from a fine country club.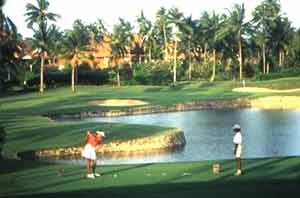 Nirwana special characteristic is that the course provides unparalleled level of service from its female team of caddies. Each is completely trained and fully informed of the course's hazards and each will easily adapt to the golfer's skill level. All manner of tasks are performed by these conical-hat wearing caddies, including marking and cleaning balls to wading into rice paddies for the odd stray ball.


BALI HANDARA KOSAIDO
Bali Handara Kosaido is the oldest golf course in Bali as well as Indonesia. This is the only golf course in Asia with its location set in extinct volcano. Nestled, 1,142 meters above sea level, northwest of Bali, at Bedugul, the Bali Handara Kosaido Country Club offers a par seventy-two, 6,432-yard eighteen hole championship course surrounded by lush tropical rain forest near vertical crater walls clad in vegetation.

The Handara is a deceptively difficult course. There are plenty of bunkers, lakes and other water hazards to get you into difficulty. But, of course, there's a cold drink waiting for you when you finish.

The greens and gardens are immaculate. Clouds are common in the afternoon, so the morning is the perfect time to start your game here. During the rainy season the course is much cooler than in dry.

The public course is designed by Peter Thompson, Michael Wolderidge & Association in an Australian and American collaboration with designers, agronomists, construction and irrigation engineering specialists.

GRAND BALI BEACH GOLF COURSE
Simply can be found at Sanur Village on the Bali First five star hotel of The Grand Bali Beach which was built in 1960 and the most complete resort complex in Bali. It has a par 36. surrounded by lush tropical garden in a flat terrain.

This 9 hole-championship standard golf course is convenient, designed by G. Hady. This course is good for golfer who has limited time in Bali. The course has a putting green, lockers and access to hotel facilities.

RITZ-CARLTON BALI
The Ritz-Carlton Bali offers the island's only championship-standard golf putting course. It is open to hotel guests and visitors.

The 64 par, 657-yard long course is designed by Ronald Fream. The tropical garden and sea's aroma coloring the course in 70 hectares resort area.

Course fees include putters and unlimited use of the fitness center steam and sauna facilities. And get one-hour complimentary golf introduction lessons are available at 9a.m Monday and Friday.