Candidasa comes from words Candi meaning temple and Dasa means ten, so literally Candi dasa means ten temples. The tourist area in Karangasem that is known for its beach is a quaint seaside resort from which to explore the secluded bays and ancient temples.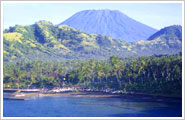 Candidasa is no more than a small resort on the dark sand eastern coastline. It is a right place for your "base camp" to explore the eastern part of Bali. Nearby is Tenganan, one of the old traditional villages in Bali where the inhabitants of this area believe that they are the origin of Balinese. Also, close by is Amed, one of Bali's famous dive areas.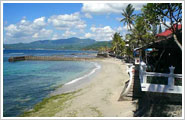 Candi Dasa still offers an escape from the hassles of the more populated tourist areas. There are lots of hotels, losmens and restaurants here. You can also hire boats for a day's snorkeling.
"Thank you for your support."
Note: Prices may change without prior notice. Use the Check Room's Availability or Brochure or Reservation request forms to get guaranteed price information for your travel dates.