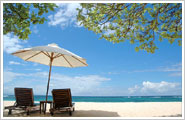 Luxury resorts are the norm in Nusa Dua; The Grand Mirage Hotel, Nusa Dua Beach Hotel, Club Mediterranee, Melia Bali Sol, and the Bali Hilton International are some of them. These hotels are equipped with convention facilities, swimming pools, sports facilities, and a selection of restaurants, night clubs or discotheques, and beach fronts. There are also smaller cottage style hotels with modern amenities.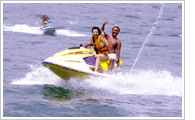 To continue this Web site (since you all like it - thanks to all who have dropped us email. We love getting them) and to serve you even more, a number of hotels have placed their information with us, offered you generous discounts, and agreed to sponsor this Web site through commissions. Please patronize them: make your reservation through Bali Online and stay with them in Bali. And in the words of Bartles and Jaymes,



"Thank you for your support."