Luxury resorts in Kuta and its surrounding areas include Hotel Santika Beach Bali , Ramayana Hotel and The Vira Bali Hotel in Tuban; and Inna Kuta Beach in Kuta. These Bali hotels are equipped with convention facilities, swimming pools, sports facilities, and a selection of restaurants, night clubs or discotheques, and beach fronts.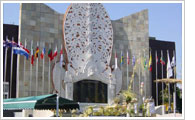 On the comfortable and inexpensive range, you can find hotels like the charming Aneka Beach Bungalows , Bali Bungalo, or Restu Bali Hotel with its cottages or Kuta Seaview Cottage, in the heart of Kuta that advertises rates from as low as US$ 21 per night.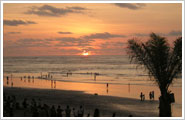 To continue this Web site (since you all like it - thanks to all who have dropped us email. We love getting them) and to serve you even more, a number of hotels have placed their information with us, offered you generous discounts, and agreed to sponsor this Web site through commissions. Please patronize them: make your reservation through Bali Online and stay with them in Bali. And in the words of Bartles and Jaymes,

"Thank you for your support."
Note: Prices may change without prior notice. Use the Check Room's Availability or Brochure or Reservation request forms to get guaranteed price information for your travel dates.