Sports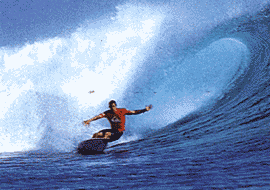 Diving and Surfing
Bali, as an island, is surrounded by sea. All year-long, sunshine gives you a chance to enjoy many offshore attractions.
Diving and snorkeling are among major attractions in Bali. Divers can view various marine creatures, such as colorful tropical fish and coral reefs. The best time for diving here is in the dry season that lasts from April to October, when warmer temperatures invite more fish and the objects can be clearly viewed.
Bali offers a lot of sites for beginners and professional divers, with some of them adjacent to the shore with abundant colorful hard and soft corals. Once you start diving, a wide variety of marine life, such as dolphins, rays, turtle, sea snakes and moray eels will greet you.
The locations for diving and snorkeling in Bali spread out along Bali's sea. The popular sites are located on the southern part: Sanur and Nusa Island (Lembongan and Nusa Penida); in the western part are Labuan Lalang, Menjangan Island, an uninhabited island with some of the best diving in Bali; in the north of the island is Lovina that will undoubtedly satisfy your diving needs. On the east coast are Amed where virgin nature can be enjoyed, Tulamben, Candidasa and Padang Bay also.
Surfing can be done everyday in Bali. Bali's magnificent surfing was introduced by Australian surfers at the end of 60's, and since then, Bali has become a paradise for surfers. Not just because of various choices for beaches and breaks, but surfing in Bali can be done everyday! Perfect wave to ride on are always available somewhere on this island. Kuta and Ulawatu are recognized for their magnificent surfing waves.
Out-standing reef breaks are found in Kuta and Sanur. Sanur reef is a real pleasure because, here you will find a tube-forming wave that will carry you back to the seashore and in this way, it is unnecessary for you to paddle like a madman.