Leisure Travel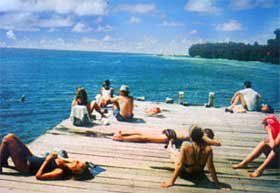 Tired? Run down? Tense, nervous headache? Keep off the pills or bottle – let travel ease your soul!
As a country with enormous natural and cultural wealth, Indonesia offers a myriad of tourism spots to explore and relax in anytime you want. The primary choice for your leisure travel destination site is undoubtedly Bali, a place of timeless beauty and rich in culture and ceremonies. Beaches in Bali offer wonderful scenery, with excellent hotels and restaurants available all over the island. The beaches are also ideal for water sports such as diving, snorkeling and surfing.
Culture enthusiasts, don't miss out on visiting museums in Bali or Jakarta, or watch some of the numerous cultural performances. Bali offers plethora of traditional shows, the best place to see these being the art center of the island, Ubud.
Leisure travel destinations in Indonesia are not just confined to Bali, Lombok and Yogyakarta, of course, since all provinces of the archipelago have their own unique places of interest. Medan in North Sumatra is well known for its expansive Lake Toba, the largest inland lake in Southeast Asia, and South Kalimantan for its waterways stretching deep inland. Bunaken Island in North Sulawesi is a veritable paradise for snorkelers and scuba enthusiasts, to name but a few of the myriad of travel alternatives.
Any excursion is incomplete without some souvenirs. Check out our shopping section for some great ideas.