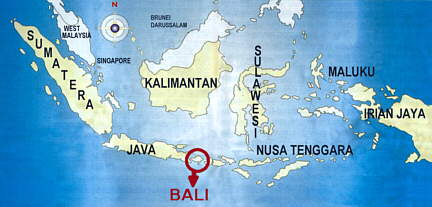 WELCOME TO INDONESIA
Welcome to Bali
We do hope that we could give you and your clients the choice of tour destinations in Indonesia, especially the ones in Bali.
With more than 25 years experience in the travel business, we put high priority on how to make your stay in Indonesia, especially in Bali a very pleasant one, satisfying and economic.
For that very reason, quality of service is our main concern.
If you have any special request on tours, accommodation from the budget till the 5 stars hotels, on where and what to eat and see in Bali and beyond, please don't hesitate to contact us by phone, fax or e-mail.
We are looking forward to welcoming and serving you and your esteem clients soon in Bali.
We serve you ............ what they don't
[ Fullday Tours | Halfday Tours | Adventure Tours ]
[ Beyond Bali | Cruise | Accommodation | Tour Rates | General Conditions ]

[.Home.] [.Hotels.] [.Food.] [.Money.] [.Events.] [.Resources.] [.Jakarta.] [.Industry.]

Copyright © 1995-1997 Bali Online