Opened in December 1989, and has been under Swiss management ever since. We serve a selection of European dishes as can be seen from our menu. Every dish is prepared with fresh and non-frozen food. Every morning we make our own pasta and bake our own bread.
Paradise UN'S Restaurant is situated in the heart of Kuta between Poppies Lane 1 and Jalan Pantai: an oasis tucked away from the hustle and bustle, only a few steps from the famous Bemo-Corner. You will be treated to refined European cuisine and Indonesian specialties, and will spend an unforgettable evening in romantic candlelight.
All of us at UN'S are looking forward to serving you a Welcome Drink.
UN"S Bar is the centre of the restaurant, where our barman will treat you to a choice of the finest cocktails.
UN'S cosy Restaurant, with its gracious and fragrant Frangipani trees, is THE place for a romantic candlelight dinner.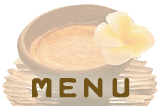 UN'S Paradise Restaurant Kuta - Bali - Indonesia - Ph + 62 (361) 752607 - Fax + 62 (361) 750350
E-mail: uns@indo.com
| Home | News | Hotels | Food | Money | Events | Resources | Jakarta | Industry |
Copyright © 1995 - 2003 Indo.Com - All rights reserved