The Mountains of Bali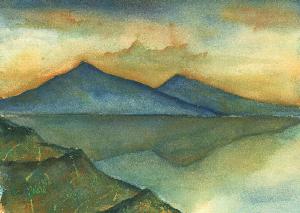 The mountains of Bali are the end of the string of volcanoes that make up the ring of fire, stretching all the way from the Asian continent to Sumatera to Java. They are mostly on the northern part of Bali.
Mount Merbuk, Mount Mus, Mount Mesehe, and Mount Patas.

Situated on the western side of Bali, inside the West Bali National Park.

Mount Pohen

In the center of the island. On its slope you can find the Great Garden of Bali (Kebun Raya).

Mount Catur

Near Mount Pohen, and on its foot lies Lake Bratan. The resort area Bedugul is on the shore of Lake Bratan. It also houses the temple Ulundanu. Gitgit, famous for its waterfall, is located just slightly north of Mount Catur.

Mount Batukau

Mount Batukau is slightly south of Mount Pohen, and it houses the temple of Batukau.

Mount Batur

Its old crater is now known as Lake Batur. The resort area of Kintamani is located on the foot of Mount Batur. From there you can cross Lake Batur to reach the village of Trunyan, where the Old Bali (Bali Aga) people live.

Mount Seray

On the eastern most part of Bali, Mount Bali is near the sacred spring of Tirtagangga.

Mount Agung

The most revered and the highest peak in Bali, Mount Agung stands tall at over 3100 meters. The Balinese consider Mount Agung to be the center of the world. All temples in Bali point towards Mount Agung. On its slope, the Mother Temple of Besakih, with its uncountable steps, solemnly wait for the arrival of the gods and the goddesses, for when they step down from heaven, they come to Besakih by way of Mount Agung.


[.Home.] [.Hotels.] [.Food.] [.Money.] [.Events.] [.Resources.] [.Jakarta.] [.Industry.]

Copyright © 1995-1997 Bali Online
Artwork designs by Margaretha Hutauruk. No part of these Web pages may be reproduced without written permission from Bali Online. We do encourage you to create a link to our humble Bali site, and to add our pages to your bookmarks.