Surya Dewata Art Gallery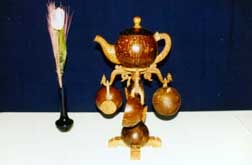 Surya Dewata art gallery is strategically located at Kuta main road, jalan By Pass Ngurah Rai. Our gallery cozy gallery always visited with multinational customers. Our professional staff will friendly welcome you and well serve you.

We specialized in fine coconut shell products with various designs and motifs. All products handmade by experienced artists. Instead of fine coconut shell products we also provide other kind of arts and handicrafts.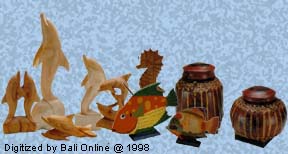 Please drop by our gallery and get everything you need there.
http://www.balitravindo.com/handicraft/suryadewata

[ Travindo Tours & Travel | Mallani Furniture | Bali Welcome | Suatama Cargo ]

Surya Dewata Art Gallery
Jl. By Pass Ngurah Rai Tuban - Bali - Indonesia
(in front of Hartono "Mercedez" Motors)
Phone: (62-361) 759449 (hunting) * Fax: (62-361) - 759450
Email: suryadewata@indo.com


[.Home.] [.Hotels.] [.Food.] [.Money.] [.Events.] [.Resources.] [.Jakarta.] [.Industry.]

Copyright © 1995-1997 Bali Online