Ena Dive Center provides you with the equipment, direction, and guidance to go to all the nine exciting diving locations in Bali.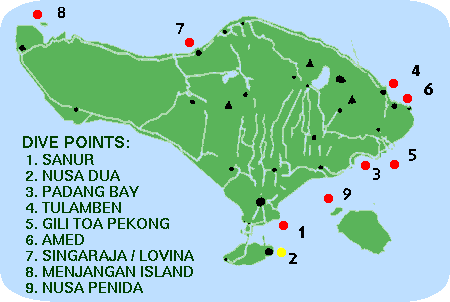 Sanur
At Sanur's Tourist Beach and for dives of 2 to 12 meters deep. Here you can see a stunning underwater environment, including table and trophy-shaped corals and sponges, with thousands of colorful schools of fish swimming around the reefs.
Nusa Dua
In the ocean facing the Nusa Dua Resort, this diving site offers a panorama of various species of sponges and fish, with richly colored corals that will satisfy even the most seasoned diver. Dives between 3 to 20 meters will be the most rewarding.
Padang Bay
Located about 90 km north east of Sanur, this picturesque bay is surrounded by majestic cliffs and hills. It is ideal for dives of 3 to 20 meters deep. Here you will find the water strewn with a full growth of corals and fish that will surely guarantee an exciting and impressive underwater experience.
Tulamben
Located about 120 km north east of Sanur, at a beautiful solitary beach, with an exotic array of marine and underwater plant life. This dive is ideal for divers of all levels.
Gili Toa Pekong
The site is located a few kilometres east of Padang Bay, with equally impressive array of coral reefs, fish, and marine plant life.
Amed
Amed is located a few kilometres east of Tulamben.
Singaraja / Lovina
Singaraja and its near-by Lovina Beach is on the northern top of the island of Bali, about 100 km north west of Sanur.
Menjangan Island
Located 140 km north west of Sanur, this small island is accessible by boat and 10 minutes away from the mainland. The underwater is filled with magnificent display that will please any diver. This spot is considered one of Bali's best sites.
Nusa Penida & Nusa Lembongan
Located only one hour away by boat from Sanur, these two islands will surprise you with white sandy bottom and crystal clear water. A wide array of fish and underwater life will greet you in this spot.


[.Home.] [.Hotels.] [.Food.] [.Money.] [.Events.] [.Resources.] [.Jakarta.] [.Industry.]

Copyright © 1995-1997 Bali Online