Explore Bali's Deep Blue...
Bali's Best Dive Sites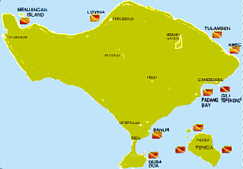 NUSA PENIDA - drift dive paradise with amazing coral and fish life, reachable in 1 hour by boat. Visibility ranges from 20-25 meters, currents generally run between 3-4 knots, unlimited dive. See mantas, sharks, turtle, oceanic sun fish (mola-mola) plus much more. You will truly be amazed by the beautiful of the underwater in Nusa Penida. Enjoy yourself today, diving here is spectacular, a favorite spot. Dive points that could be visited around the island are S.D. Point, Sampalan, Toya Pakeh, Cristal Bay, Manta Point, Batu Abah, Malibu Point, and Blue Corner. Definitely not to be missed....!!!
TULAMBEN - the famous USS Liberty Wreck. Highlights are the huge amount of "friendly" fish. The marine life on and around the wreck is fantastic. Watch your fingers at feeding time... Generally there are no currents. Visibility is 15-20 meters and beach entry. This is a great dive site for either experienced divers or beginners. Night dive with the flashlight fish must be one of Bali's best dives.
MENJANGAN ISLAND - some of the best wall dive in Asia with pelagics, turtle and great coral growth. Menjangan offers vertical walls down to 30-60 mtrs, which then slope outwards. The island is protected, currents and waves are generally non-existent. Visibility is 20-25 meters. It is part of Bali Barat National Park. Menjangan is great for all levels of divers or snorkelers.
GILI TOAPEKONG - again many sharks, tuna and other large fish in slightly cooler water. Gili Toapekong is a small island of volcanic rock. The water is colder here because it is exposed to the open sea. Dive at 11-25 mtrs depth while visibility is 10-15 mtrs. The highlight is a trench lined with huge boulders on the southwestern corner. Currents and surges swirl here with amazing force.
AMED - great wall dives and closer than Menjangan island. This offers a great variety of fish. Visibility is generally between 10-20 mtrs. Amed is generally calm year round, but listen to your guide. Depending on the moon tides, occasionally there may be strong currents and surge.
SANUR and NUSA DUA - specially good for those with limited time. Just a 10 minute ride from Sanur Beach. While not the best of Bali, you will still get rewarded if you look around you. Moray Eels, Spanish Dancers, Crocodile fish and many other forms of aquatic life can be found here.