Every visitor to Grajagan (G-Land) must feel something of the awe experienced by the early surf explorers who discovered this legendary surf sport. The world's best left handler barrels along a kilometer of shallow reef in front of peninsula of dense wild jungle on the eastern tip of Java. The only access is by boat and the new arrival's first view of the line up is looking side along into row after row of the G-land barrels.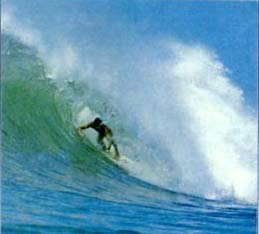 Grajagan is considered by many to be the world's most perfect wave, offering incredibly deep and open tubes and one of the longest rides in the world. The wave itself is divided into three distinct sections, which sometimes link up depending on the swell, size and direction. The outside peak is known as Kong's with long workable walls. Next is Money Trees, the most surfed section, with top to bottom tubes. The end section, Speedies is a think and gnarly barrel where the reef is at its shallowest. On land a small pocket of civilization has been carved out. The surf, the sense of isolation and the teeming jungle give a unique atmosphere to the camp-a surfer's oasis in the middle of untamed land. Wake to a spectacular view of the line-up, surf all day, enjoy three generous meals a day and cold beers, G-land provides a pure surf experience unrivaled in the world.


For untold years the people of a tiny village in East Sumbawa have given scant regards to the perfect waves that have gone unridden in their backyard. Since this accommodation opened in 1988 the waves and the strange visitors who come to ride them have become the chief form of local entertainment. The native line in the beaches for hours on end to watch surfers perform and treat them with the sort of reverence normally reserved for surf stars at a Pro-contents. The surroundings however, couldn't be more different. Periscopes Camp offer an oasis of simple comforts in the middle of a harsh, primitive land.
It is mind-boggling to ponder the number of perfect waves which have gone unridden here. Periscope, the right-hand reef straight in front of the Camps provides hollow, shreddable waves up to eight feet, Nungas is the area's big wave spot - a long fast, wrapping left-hander that has been ridden up to 15 feet. Lakey Peak, a short walk further east, breaks with mechanical precision over a perfect, triangular reef. The left is the superior wave, providing intense, open tubes, while the right is a relatively short, sharp bowl.