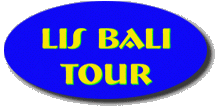 THE REAL TOURIST PARADISE ISLAND
We offer you an unforgettable holiday with:
The warmest greeting . . .
from nice, friendly and helpful people who will always ready to give their best services start from your arrival until departure time in this beautiful island of Bali.
The best star hotel . . .
that already prepared just for you to stay in private, relax and enjoyable with fantastic panorama.
Tasting the most delicious . . .
food and drink! From traditional to an international restaurants are waiting for your coming.
The best sightseeing tour . . .
to learn the culture and experience the fantastic natural beauty of the surrounding country-side.
The best shopping places . . .
to buy souvenirs and famous traditional Balinese Hand Weavings.
Last but not least . . .
are the best holiday memories to bring back home!

[ Special Package | Reservation | Handicraft Shop ]
For further information, please contact:
LIS BALI TOURS AND TRAVEL
Cottage Arcade - The Grand Bali Beach Hotel, Sanur - Bali
Indonesia (South East Asia)
Phone: (62-361) 282182, 288511 Ext. 1356 * Fax: (62-361) 285528
Email: lisbali@indo.net.id


[.Home.] [.Hotels.] [.Food.] [.Money.] [.Events.] [.Resources.] [.Jakarta.] [.Industry.]

Copyright © 1995-1997 Bali Online