G O L F I N B A L I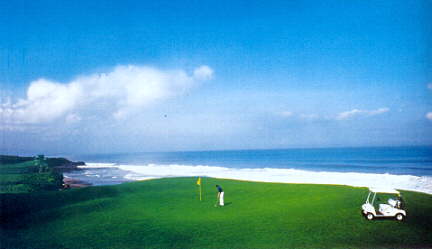 There are three of golf course in Bali. Each golf course has a difference panoramic view. Try and enjoy with Bali Harapan Utama Tours.
1. GOLF THE VOLCANO
The only golf in Asia located in a volcanic crater, Bali Handara Kosaido Country Club is a World Silver Medal, 18 - holes championship course on the scenic shores of Lake Buyan. Surrounded by lush tropical rain forest 1,142 meters above sea level, the clubs hotel and bungalows also offer a cool retreat on your holiday.
2. GOLFING IN THE HEART OF PARADISE
Stretchingback from the southern shores of Nusa Dua, the world famous Bali Golf & Country is a golfer heaven in the heart of Paradise. Designed by renowned Hawaii based landscapers Robin Nelson and Rodney Wright, this championship standard 72 par course has been enthralling golfers. Since its opening in 1991, and was chosen to host the prestigious Alfred Dunhill Master Tournament in 1994.
3. NIRWANA BALI GOLF CLUB
The Nirwana Bali Golf Club is an 18 hole par 71 golf course. The course has been designed to incorporased rice terracing and creeks and is one of the most visully spectacular course in Asia. Three holes are played by the cliffs overlooking the Indian Ocean and the twelfth holes which overlooks the Tanah Lot temple will be one of the most photographed holes in the world.

PACKAGE PRICE PER PERSON
GOLF PACKAGE / PLACE
PARTICIPANT
PACKAGE INCLUDED
2 - 4
5 - 9
10 - 15
Golf the volcano Pancasari - Bedugul.
Bali Handara Kosaido
US$ 125
US$ 120
US$ 110
18 holes green fee + Caddy fee
Return Transfer
English Speaking Guide
Tax and service
Golfing in the heart of Paradise.
Nusa Dua Golf, Nusa Dua
US$ 165
US$ 160
US$ 150
18 holes green fee + Golf Cart
Return Transfer
English Speaking Guide
Tax and service
Nirwana Bali Golf, Tabanan
US$ 160
US$ 155
US$ 150
18 holes green fee + Cart fee, Caddy fee
Return Transfer
English Speaking Guide
Tax and service
Company Profile . Tour Packages . 5 Days Around Bali Tour . Quicksilver Fleet . Hotel Rates


[.Home.] [.Hotels.] [.Food.] [.Money.] [.Events.] [.Resources.] [.Jakarta.] [.Industry.]

Copyright © 1995-1997 Bali Online