Ganeça Bali Furniture specialize in antiques and fine furniture made of old teak wood and mahagony.

We have 4,000 big collections of antique generally collected from Java, Madura and other parts of Indonesia.

Product range includes many kinds and models of tables, chairs, pillars, carved door, wooden tubes, etc. Our services include restoration, which almost like new. Our showroom and workshop will gladly welcoming you at Jalan By Pass Ngurah Rai 99X, Pesanggaran, in Denpasar, Bali.

"We'll Give the Best to You".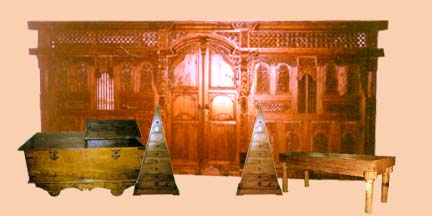 COMPANY PROFILE
Company Name
PT. Ganeça Bali Furniture
Address
Jl. By Pass Ngurah Rai No. 99X, Denpasar, Bali, Indonesia
Telephone
(62-361) 728530, 728535
Facsimilie
(62-361) 430274
E-mail
ganesha@indo.com
Homepages
http://www.indo.com/galleries/ganeca
Contact Person

Ida Bagus Asta Gunawan, SE
I Gede Mertayasa
I Gusti Kade Muliyana

Product Line

Antique Furniture
Fine Furniture

Banker
BCA, branch Tabanan, Bali, Indonesia
a/c. 149 0090800
a/n. CV GANECA BALI
---
| Joglo House | Gebyok | Madura's Bed | Teak Table | Tarip Ranjang | Roll Top | Jodang |
| Kudus Bench | Batavia Chairs | Leyek | Gerbong | Piramid | Cupboard |
| Rattan "G" Chairs | Gerobok Table | Tenun Table | ORDER |