Balinese Hindu priests support the turtle conservation
The turtle or tortoise is itself a sacred animal for Balinese Hindus, since it represents the Kurma Avatar or Bedawang Nala (Wisnu's incarnation as a giant turtle supporting the world). Thus, sea turtles are valued as sustainers of life on earth.
With the help of Acharya Dwijendra Agni Homa (a local prayer community lead by Ida Pedanda Gde Bang Buruan), WWF was able to collect signatures of 30 Hindu high priests and 25 traditional leaders that support turtle conservation in Bali. In the light of this extensive support, the Indonesian Hindu High School (Parisadha Hindu Dharma Indonesia) finally declared that the use of sea turtles in offerings is not obligatory and that Hindu people should respect and follow the sea turtle protection law.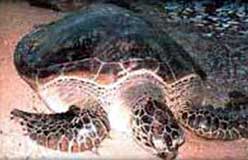 Ever since turtle conservation came to prominence in Bali in 1990s, questions have been raised about the role of the Hindu religion in the exploitation of this endangered species. Amongst the most frequently asked questions are why is turtle meat needed as offerings during the religious ceremonies, and why Hindu priests in Bali do not appear to have taken any action to help with conservation of turtles.
Since its creation in 1996, WWF Indonesia Bali Office has worked to come up with answers to these questions, and to show that far from being against conservation, conserving nature is in fact an integral part of the Hindu religion.
However, in 1998, after two years of work with some traditional turtle consumer villages (including the trade market Tanjung Benoa), WWF Bali organized a meeting with traditional village leaders, two Hindu high Priests (Ida Pedanda Gde Ngurah Kaleran and Ida Pedanda Subali Tianyar Arimbawa) and Hindu Theologist (I made Titib and Ketut Wiana) in Bali.
The meeting concluded that the Veda (Hindu's holy script) did not actually specify any obligation to use turtle meat for offerings, nor for traditional fiestas that usually accompany religious events. For this reason, the Priests and Hindu Theologists urged the Balinese to reduce their consumption of turtle meat.
According to the priests, there are only a few Hindu ceremonies that use a turtle head as a part of the offering, symbolizing the base of the world. This can be replaced with symbols such as a drawing of a turtle or a turtle-shaped rice cake.