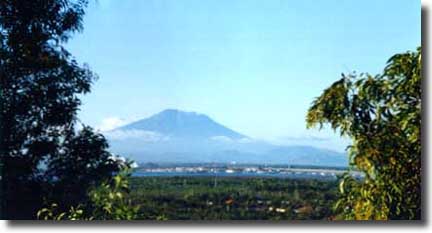 Mountain and Ocean - a view from Udayana Lodge
Why not try us??
We believe that we are something different and special for the weary traveler. We are situated in 70 hectares of bush land on Jimbaran Heights only 15 minutes from the airport, Uluwatu or Nusa Dua. We are a small eco-lodge which specializes in giving our clients peace, quiet and privacy and personal service at a reasonable price. We are the only hotel in Bali which emphasizes environmental protection, promotes the Balinese culture, focuses on birds and butterflies and has facilities for the games of lawn tennis and cricket. We also have fabulous views all over Bali.
| | |
| --- | --- |
| We know Indonesia intimately and have representation on all the main islands (except Kalimantan). Thus we can organize any type of tour or activity to your specification. We are an excellent base for your holiday anywhere in Indonesia. We are also a good site for special activities such as small business meetings, family reunions, seminars on eco-tourism, agribusiness or the culture of Indonesia or any typeof meeting. | |
You can find peace and tranquility to relax in or work in. We have every facility for the professional on business as well as a friendly, caring atmosphere. A beautiful pool lies in a tropical garden for your pleasure. Recycled water keeps the garden green, and we use solar power where possible.
Our main specialities are:

Swimming Pool

Small groups of any type especially families and small business.
Honeymooners.
Small meetings of any type - we have a small, well equipped seminar room.
Anyone who just wants to relax in a friendly Balinese environment.
Anyone who wants to learn about Indonesia and its many cultures.
A number of special tours organized from the Lodge.
For further information please contact us:
AYO UDAYANA LODGE
Email: lodge@indo.com
| Home | News | Hotels | Food | Money | Events | Resources | Jakarta | Industry |
Copyright © 1995 - 2001 Indo.Com - All rights reserved