TERRACE TERATAI RESTAURANT
Relaxing friendly atmosphere, open-air bar and restaurant offer a superb choice of Western and Indonesian dishes. The sunken bar with classical music background, tropical and international mixing drinks are the perfect way to conclude your day.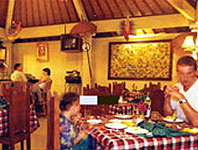 HOTEL AMENITIES
Swimming pool
Bar and Restaurant
Internet, facsimile and IDD service
Safety boxes
Hotel book exchange and reading room.
Beach facilities, sun beds with umbrellas and beach towels
Guided Bali Tours. trekking, mountain climbing, horse riding, cycling.
Water sport activities - cruises, fishing, snorkeling, and island diving.
Video and VCD rentals for holiday movie viewing. (Ideal for the kids)
Car and motorbikes rentals.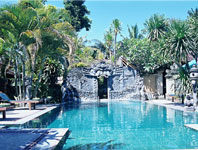 For further information please contact us:
Stana Puri Gopa
Jalan Kesuma Sari No. 4 Semawang, Sanur, Bali, Indonesia
Email: pgopa@indo.com
Location : Sanur, Denpasar - Bali 15 Minute to the International Airport and 15 minute to the Capital City Denpasar. Located in a heart of Sanur, the hotel is a minutes walk to the beach where you can enjoy days lazing in the sun, water sport activities, discovering the local beach market, restaurant. For the shopping enthusiasts the hotel is also located close to boutiques, gift shops, supermarkets, bars, pubs, and the local night club.

The Stana Puri Gopa Hotel is family owned and offers Traditional Balinese hospitality. The Hotel is surrounded by authentic Balinese architecture, lush tropical gardens with western comfort amenities. The Stana Puri Gopa Hotel should be your first preference for your Bali getaway holiday.
ROOMS
All rooms have private balconies, with either poolside or garden views. Rooms and suite are spacious with king size bed, whisper quiet air conditioning, modern bath rooms with hot and cold water, television with international channel, mini bars, ( not include in standard room rate ) room service, laundry, telephone, and baby cots are also upon request . facilities, private balconies, either poolside and garden views.

Standard Room : Chooses of ground floor or sweeping to ocean view in a building property with large and spacious rooms.
Deluxe Double Room : Our Deluxe Rooms are designed with traditional Balinese architectures. They are Large and spacious with king size bed, private balconies, poolside or garden views.
Deluxe Twin Share : Large and spacious rooms with two single beds, private balconies, garden views, and modern bathroom with hot and cold water.
Puri Suite : The Puri Suite Room is design luxury fully Balinese architecture, building as own private house of Balinese King, overlook to the garden.
Family Apartment : Fully self contained two bed-roomed apartment, private kitchen, bar lounge and modern bathroom with spa shaped bath.
STANA PURI GOPA RATES
Valid until 31 March 2007
Room Type
Publish Rate (US $)
Internet Rate (US $)
Single
Double
Single
Double

Standard Room

48.40
29.00
Deluxe Room
60.60
34.00
Puri Suite
84.70
57.00
Family Package 4 persons
108.90
69.00
Extra bed
15.00
10.00
NOTES
All rates are nett, include Daily American breakfast and 21% tax & service charge.
For Room Type: Puri Suite and Family Packages Valid until 31 August 2006
Welcome drink upon arrival (check in time only).
High Season Surcharge ( 15 July - 31 August 2006) for Room Type:

Puri Suite and Family Package USD 5.00/night

Peak Season Surcharge ( 20 December 2006 - 10 January 2007) USD 5.00/night