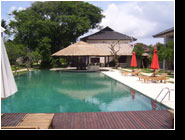 Location
Princess Benoa Resort located only 25 minutes drive from Bali International Airport and down town Kuta, 45 minutes drive to the Capital City of Denpasar and within 5 minutes easy ride to Nusa Dua Business Center.
Tanjung Benoa, where the Princess Benoa Resort is located, is an extended peninsula of the Nusa Dua beach resorts, at southern part of Bali. The long white sandy beach was home of the traditional fishermen, which has transformed it self into one of the finest water sport center of the island.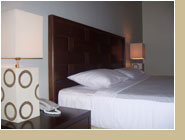 Accommodation
Comprised of 54 generous size rooms with balconies designed in modern and Balinese cultural style will please the most fastidious person and can accommodate family of four.
All rooms are air-conditioned, IDD phone, mini bar, TV and in house video. Four large suites are available, 24 hours room services. The restaurant has a wide variety of International cuisine to offer with good choices of European and Oriental dishes.