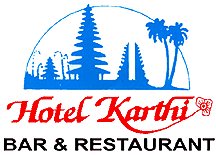 LOCATION

Located on the Tuban Resort Area.
5 minutes drive from Ngurah Rai International Airport.
3 minutes walk to the famous Sunset Beach, Kuta and Kuta Art Market.
Just a short walk to Kuta Square Shopping Mall and Kuta Centre where food centers and many shops are around.


Pool & Sunken Bar

Family Room
FACILITIES

50 well furnished rooms are fully air-conditioned with private shower/bathtub, hot/cold water supply, color TV, phone facility.
Swimming pool with Sunken Bar, Bar & Restaurant for breakfast, Lunch & Dinner, Laundry Service, Safe Deposit Box.
Private coach for rental is available upon request.
We accept Visa, Master, JCB cards.
RATES 2000/2001
Stay and experience the excellent reputation by checking-in at Karthi Hotel
a place where we welcome you with warm smiling and hospitality
that will always be yours . . .Be there!
For inquiries or reservation, please contact us at:

E-mail: karthi@indo.com


[.Home.] [.Hotels.] [.Food.] [.Money.] [.Events.] [.Resources.] [.Jakarta.] [.Industry.]

Copyright © 1995-1997 Bali Online