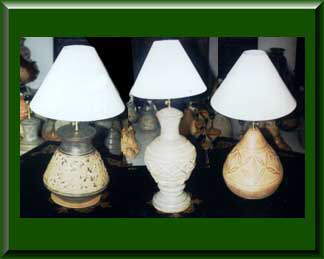 Just imagine one of our selective lamps at your bedside spreading its light from Bali across your room. A lamp is just one of the many handmade items from our Warna Natural Collection. Our collection is brought together from Bali, Java and Lombok and creatively finished to enhance the product ready for you to enjoy for many, many years.
PRODUCT RANGE

We have a collection of many many designs including:
* Lamps from wood, terracotta and stones *
* Candles & Candle Holders in various designs *
* Terracotta urns for plants and water gardens *

CUSTOMIZED DESIGNS

Just give us your design and quality craftsmen will make it exclusively for you. Go on - you will be pleased you did.

ORDER AND INQUIRY

Made to order product - 50% payment in advance and the balance to be paid upon delivery.
For further information and inquiry, please visit our office:
WARNA NATURAL HANDICRAFT
Jl. Tangkuban Perahu No. 226, Padang Sumbu Kaja,
Denpasar - Bali - Indonesia
Phone: (62-361) 731634 * Fax: (62-361) 754553
Email: warnanat@indosat.net.id


[.Home.] [.Hotels.] [.Food.] [.Money.] [.Events.] [.Resources.] [.Jakarta.] [.Industry.]

Copyright © 1995-1997 Bali Online