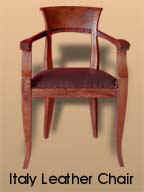 G & R is a newly expanding furniture gallery specializing in "Lesung" teakwood furniture; aged teakwood highly resistant to bugs and extreme weather changes. With years of experience we have been producing high quality models and reproductions of Italian leather chairs, cabinet drawers, panel, leather bench, etc. We also deal in authentic antiques.

All of our products are hand crafted in Bali with contoured edges and smooth finishing. For those who really appreciate arts and relaxation, our products present the ultimate in comfort, besides artistic furniture or interior accessories.

Being supported by professional staff, we are ready to supply our world-wide customers with ready stock products as well as made to order. Currently we have been marketing our products to Malaysia, USA, Australia, Africa, Canada, Netherlands, Spain, New Caledonia, Hawaii and other parts of the world.

If you are looking for quality works and good value, please feel free to contact us. Our motto is:
"Good Wood, Good Quality, Good Finishing, and Good Prices"