Sayang Maha Mertha Hotel will welcome you in Bali with signature warmth of Legian. Just only 100 meters of the notable Kuta Beach and 10 minutes drive from Ngurah Rai International Airport.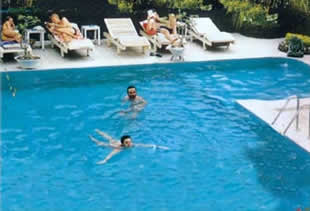 Comprised 60 bungalow rooms, offers traditional touch for your vacation, shaded with coconut leaves and an ample of hospitable staff and understand fully your purposed holiday in Bali.

Although small but comfortable environment and peacefully and familiar with air-conditioned rooms, hot and cold running water and also Sayang Restaurant that offers various menu of European, Chinese, Indonesian and local Balinese culinary. Room services is available until 11 pm and swimming pool with side pool bar offers various cocktail, drinks and snacks.

Enjoy your holiday here with Legian's warmth that part of Kuta, where lies many international restaurants, cafes, bars and night entertainments and also shopping centers in one package. Made Kuta as tourism industry center with wide and various international services available.