JAKARTA (indo.com): A unique phenomenon occurs every year in Indonesia, one which is culturally so sacred to Muslims that no one want to miss the moment. After fasting for the whole month in Ramadhan, there is a big gift for every Muslim. Lebaran is that white gift, and the day when all Muslims forgive each others' faults.

One of the celebrations of Lebaran is Mudik. In order to reunite with parents and families, millions of migrants from big cities like Jakarta make long queues for train and bus tickets, jump into any overloaded transportation vehicles they can find and get stuck for hours in traffic jams. For them, all the pain and inconvenience is nothing but a small hazard of the home-sweet-home journey. In fact, the journey itself is often an interesting story to tell to the families back home.

Migrants from the same village usually do Mudik together. Companies provide free buses or rented cars for employees so that they can travel in comfort, and also feel the spirit of togetherness. A week or even a month before Lebaran, rented cars, bus tickets, and train tickets are already fully booked. Everybody is going everywhere.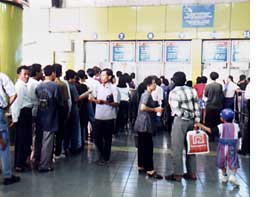 Traffic jams abound during the week before and after Idul Fitri. The police have to work extra hours to keep everything in order, their annual security drive often being called 'Operation Ketupat Lebaran'. Ketupat is a traditional meal cooked specially for this festival.

Mudik is an annual tradition that is an inseparable part of life in Indonesian communities. Lots of people who try to make a living in big cities come home only on Lebaran or Idul Fitri holidays. Usually, they'll visit their ancestors' graves to tend to them and give prayers to the spirits of the dead. Mudik is also a kind of therapy which serves to revitalize family relationships. In its spiritual aspect, it generates a new freshness, which instils the migrants with new vigor when they return to their work in the big cities.

People working away from home in big cities often feel something is lacking in life, and this "lost something" can be rediscovered at times when migrant citizens return home to their villages. Mudik is therefore both an annual tradition and also harbors a remedial "side effect" or therapy for the sense of loss in urban life.

Mudik also functions as an information network about job opportunities in big cities, though this causes problems. Urban populations increase annually when the migrants return from their annual holiday, as domestic servants often bring along two or three relatives to partake of the "urban success story". Urban migrants back in their villages tell family and friends of their successes in the big city and show off their newfound "wealth". This inspires dreams about what urban life has to offer those having the courage to leave their homes, resulting in a constantly moving flow to the cities, an illusion of a new lifestyle and new hopes.