BANDUNG (indo.com): Way back in the early 30s, in the beautifully inspiring land of Parahiyangan - which means land of Gods and Goddess - a five year old boy became overwhelmed by the sound of angklung, a Sundanese traditional musical instrument made of bamboo. As the child sensed, the angklung was his good friend not only for him but also for the rest of the villagers that he lived with. The harmony, the uniqueness of various melodic sounds and the joy that it created had escorted every child to his circumcision, adults to their marriages, and even celebrations at harvest time. Angklung was the harbinger of happiness.

As the boy grew up, he didn't want his memories of angklung magic to fade. He wanted the children of the next generation to experience the same angklung joy he had once felt. But it was not until the year of 1955 that the boy was mature enough to begin learning angklung seriously directly from the master of angklung itself, the late Daeng Soetigna, the founder of angklung music in 1938. He was one of six of Daeng's students, and subsequently gained the nickname the crocodile of angklung because of his passionate obsession for this cultural heritage.

Years later, in the 21st century of today, that little boy has grown old with a long white beard, and still plays angklung performances every evening with tens of children in his 1.5 acres wide saung (a thatch-roofed pavilion with no walls, a bit like a wide open gazebo). Nowadays the Saung's visitors number 1000 to 2000 a month, coming from many countries in Europe, America, and Africa - as well as spell-bound local audiences. The 73 year old Udjo Ngalagena has traveled to many countries performing his hobby and has been given many awards both nationally and internationally.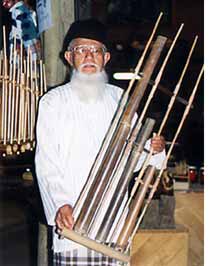 Saung Udjo in Brief
Inspired by the late Mr. Daeng Sutigna, the master angklung player, Saung Angklung Udjo was established in January 1967 by Mang Udjo (literally meaning 'uncle Udjo') and his late wife Uum Sumiati. Situated on Jalan Padasuka 118, Saung Angklung Udjo rapidly became an important tourism destination in Indonesia and Bandung itself. The Saung also has a display room selling hand-made craft souvenirs such as the angklung itself, wayang golek (wooden puppets), Sundanese blangkon - traditional hats made of batik textiles - and other bamboo handicrafts made by the artisans next to the saung. Recently, Saung Udjo has improved the merchandise, and now also offers recorded CD's and VCD's of their performances.

Daily programs are held from Monday to Sunday from 15.30 - 17.30 p.m. The performances begin with the Sundanese gamelan. Next, the host of musical performances introduces a short wayang golek demonstration. A real performance of wayang golek (puppet show) last more than 7 hours and sometimes takes one or even two nights to finish a story, but here in Saung Udjo, the demonstration only introduces how wayang dances, speaks, fights, and goes to war. Following the wayang golek show is helaran, a ritual play describing a situation when friends of a boy to be circumcised are carrying him along in a procession in order to give him happiness. After that, an arumba (another form of angklung band) orchestra is presented. The tari topeng (mask dance) is one part of this musical performance medley which is usually played by a single child. At the end of the performances, the audiences can also experience how easy it is to play the angklung together with children in songs like Rain & Tears, Sound of Music, and Song of Joy.


The Root: Children's Happiness, Culture, and Education
Saung Angklung Udjo is now a famous center of Sundanese traditional culture in addition to also being the chief angklung school in West Java. It's not just the music that makes it famous, but also the children who perform it with so much love and joy. A small group of children (approximately 30-40) carry out their dynamic performances with natural expressions of innocence.

For them angklung is not only an instrument of traditional music. Most of all, it is an easy way of playing games with their friends. So, don't look for expertise in their performances, because there might be mistakes - often this makes visitors laugh just as when we watch kids mispronounce words. "It's not the quality, but the activity," Udjo says. So in order to maintain the happiness of the children in learning angklung, Udjo has one principal: be a child. For Udjo it's not hard to do because he is indeed a lover of children. In fact, he has ten adult children himself; they now work together to keep the Saung heritable from one generation to the next.

When you visit Saung Udjo, you may be surprised to see a three year old boy performing joged (a traditional Sundanese dance) and playing a traditional Indonesian drum called kendang. The children present bamboo art performances, from playing angklung to arumba musical orchestras, tari topeng (mask dance), and many more.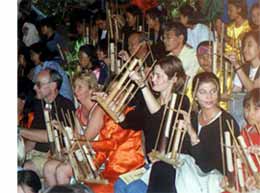 A tourist from Holland, Han Kortig (63) who is a music teacher, was very excited after watching the performances that evening. He said, "I'm amazed at what the children can do with this instrument. How they can quickly develop the sense of music. They play it so spontaneously and with so much joy. Unbelievable. It's really fantastic, terrific!"

The children who play in the orchestra come from the surrounding kampung (Sundanese name for a village) of their own accord in order to meet their friends and play the angklung with love and happiness. Most of them come to the Saung every evening for just one or two hours of angklung lessons. They don't need to spend money to participate in the angklung course, rather they receive money. The amount depends on how many visitors watch the performances - usually a fairly small amount, but this is not important for them in comparison to the happiness of playing angklung music. Until now, there have been 250 to 300 students. The first 'alumnii' are now is teaching angklung lessons abroad, in countries such as in Argentina and Thailand.

This November Saung Angklung Udjo was invited to perform on the anniversary of one famous children's tabloid. Prior to that, the children of Saung Udjo received the honor of playing a concert along with Sherina - a talented little girl who is a very famous singer in Indonesia. But for Udjo, the biggest satisfaction is seeing the happiness of the children playing angklung and providing the cultural education for the next generation. "I will make everybody happy with my capability," he emphasizes, "not only for the visitors, but most importantly for the future of the children. That is why I built this Saung."