5 DAYS/ 4 NIGHTS
Day 1 Transfer in to the hotel,
Welcome flower at the airport. Arrive at the hotel, a tropical welcome drink is served, fruit and flower and welcome cold towel are also provided. Honeymoon celebration cake can be enjoyed together in your room.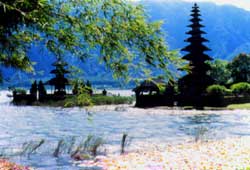 Day 2 Full Day Romantic Tour
Bedugul, At first we start this unforgettable moment to visit a mountain village at Bedugul, a cool mountain take resort with recreation facilities and Ulundanu temple on the shore of Lake Beratan.
Git-git, the spectacular natural waterfall
Pacung, a beautiful rice paddies, wild orchids and flowers embellishing the magnificent view. Luncheon id available at the famed Pacung restaurant with the beautiful rice terraces.
Alas Kedaton in this place you can see a group of bats and friendly monkeys. You can feed the animal with the food, which is provided around the area.
Tanah Lot Temple, the romantic day is continued to visit a spectacular sea temple Tanah Lot which was built on a peace of a huge sea rock. When it is high tide it just looks like a floating temple, therefore it will rise the romantic atmosphere between the two lovers. One more thing, this magic place also offers the amazing sunset beyond the black larva tower of the sacred temple.
Day 3 Hotel Special Offers:
3 hours at the spa villa for two persons includes; full body massage, body massage, body scubs, followed by an invigoration jet stem shower and romantic Jacuzzi scented bath. A soonthing collagen eye mask will complete this sensual experience and complimentary afternoon tea.
Royal Javanese lulur at Spa, Balinese Sarongs are provided, Sunset cocktail at Kele Beach bar. A candle light romantic dinner for 2, served at Putri Duyung Restaurant and a bottle of Balinese wine.
Day 4 Shopping with your own programme.
There are many places to shopping in Bali, maybe you want to buy some gifts for your memories in Bali.
Day 5 Free Leisure at hotel beaches or swimming pool & Transfer out to the airport.
General Condition
Accomodation as to the above hotel choice, Return Transfer as the itinerary, AC transport, A professional guide and driver, daily breakfast, honeymoon gift, entrance fee/ donation, 1x lunch on the tour and goverment tax and service.
Copyright © 1995 - 2001 Indo.Com - All rights reserved