..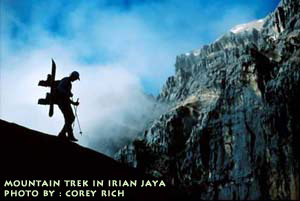 Nature Reserves Exploration
The most expedient way to view plant and animal life is to visit one of its in nature reserves - which contribute to preserve the diversity of the flora and fauna. Some of the parks are : Ujungkulon National Park (Java), Bali Barat National Parks, Baluran National Parks (East Java),Tangkoko-Batuangus Nature Reserve (North Sulawesi), Kerinci Seblat National Park (Sumatra), Gede Pangrango National Park(Java), Bromo Semeru Tengger National Park (Java), Betung Kerihun National Park (Kalimantan). For detail information, please contact us .



Volcanoes Climbing
Some of the world's most famous volcanoes are located in Indonesia : Cracatoa, Mt.Kerinci 3.805 M the highest volcano in South East Asia; Mt.Semeru 3.676 M in Java with it's sister peak Mt.Bromo; Mt.Rinjani 3.726 M in Lombok Island, and also Mt.Latimojong 3.438 M in Sulawesi island. Those mountain and peaks above makes this country is the perfect place for mountain climbing and trekking For detail day to day itinerary and price, please contact us .
Outdoor Filming
We invite the adventures travel film makers or broadcasters for a fascinating filming trips all over the remote places in Indonesia combine natural and cultural history. Accompanied by our experienced guide team, start from the permit arranging and another state bureaucracy, you then will be taken deep in the tropical rain forest, mountain and rivers by trekking, climbing, boating or canoeing for the film making of the primitive tribes with their unique way of life as well as the exotic flora and endangered - endemic fauna. Please contact us for detail information .