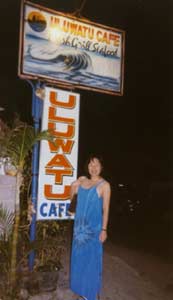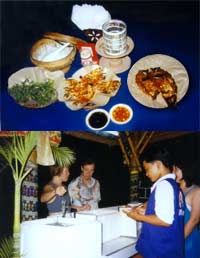 For all of our special grill we've made very special for you it is used traditional and delicious red garlic sauce to put on it. Besides seafood we served vegetable, fresh fruit, chicken satay, grilled chicken, fried chicken, fried noodle and fried rice or french fries.

Uluwatu cafe it is located at the beautiful sunset and white sand between four season resort and Denpasar airport. The cafe are not so far from kuta, sanur and nusa dua area. SO it's very easy to have lunch or dinner from your stay.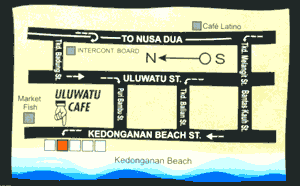 Right at the greatest and wonderful view, the cafe was made by traditional local art designer. And it's protect you from the heat or rain, so you can enjoyed all the menu with happines.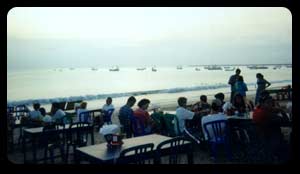 Busy time is always the same situation in the cafe, whenever comes you will excepted by our warm welcome and sincere greeting so, during your holiday in Bali take your change to come and join with our staff and the other guests. For dinner a live music from local band will give you a sweet memories in bali, and free shuttle from 10.00 am - 12.00 pm.

ULUWATU CAFE
Fresh Grill Seafood
Kedonganan Beach St.Jimbaran Bay - Kuta -Bali
E-mail :uluwatucafe@indo.com

Copyright © 1995 - 2001 Indo.Com - All rights reserved