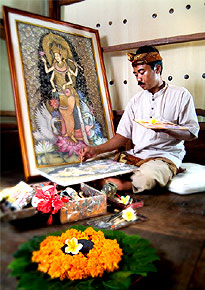 Activities
WakaNamya restaurant has designed at Waka setting, Eyes catching, good ambiance and romantic atmosphere. Design will achieve flexibility of ambience by creating changes of mood based on meals periods. Table setting includes pas flowers or single frangipani flower in simple stone vase.
Open for Breakfast, Lunch and Dinner with 30 seating capacity. No dress code requirements ( smart casual ).
Spa Facility
Indonesian herbs and spices add to the rich nature traditional experiences of our treatments to totally relaxation. WakaNamya Spa introduces of Balinese word for the treatment brand and hopefully makes our customer relax, good health and God blessing them.
Facilities
Limousine and Taxi services, Laundry services, Restaurant, SPA and massage room, Tour desk, Doctor on call, Luggage storage room, Safety deposit box at front desk, Iron and Ironing boards, Transformer
16 hours room service, Airport transfers, Afternoon Campuhan rifer trekking, Rice paddy trekking, Free visiting Rudana Museum, Pillow (non allergic), Safety boxes in the desk
Complimentary Afternoon Tea, Courier Service, Fax/photocopy services, Internet services, Gallery
Boutique.
For further information,
please contact us :
WAKA NAMYA
Jl. Raya Penestanan Ubud,
Bali, Indonesia
E-mail : wakanamya@indo.com
Waka Namya is a haven of quite in the bstling heart of Penestanan Ubud, Bali's famous painter community village, and built in the traditional Balinese architecture or Lumbung design (rice store in Balinese) with tropical garden landscaped and a large swimming pool. Waka Namya offers tranquility, privacy the center of art and relaxed atmosphere. A beauty treatment centre with two massage rooms is available to pamper guests.


Situated in Panestanan, Ubud, Bali's famous painter community village, and build in the traditional Balinese architecture or Lumbung design (rice store in Bali).
ACCOMMODATION
The resort has 3 Lanais, 8 Deluxe Villa's and 1 Family Suite with Waka Style and comfort in a artistic and cultural atmosphere. Your room has been created to combine traditional Balinese esthetics with modern style and comfort. The materials are local stone, folk-weave fabrics, cane bamboo and weathered wood.

Electricity: AC 220 V/50 cycles
Check out time: 12.00 hours
Day use till: 18.00 hours

Room Facilities :

Individually controlled air conditioning, Mini bar, International Direct Dial Telephone
Coffee maker (on request), Hairdryer, Private bathroom, Separate outdoor shower
Bathtub, Sarong (Balinese-robe), Mosquito net, Private terrace, Baby cot on request
Hot-Water Jug.