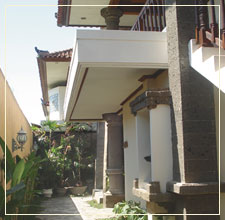 With ultimate location at Seminyak; where the most stylish shops, wine and dine and the nightlife can be found mixed with local culture which made Seminyak dynamic with traditions and modern life.

Just about 20 minutes drive from Bali's International Airport and not so far from the entertainment spots scattered about Seminyak, The Batu Belig Hotel and Spa offers a charming holiday retreat for you to experience the genuine warmth of Balinese hospitality and utter privacy for your comforts.

Comprised of 23 air-conditioning rooms; 9 standard room, 13 deluxe room and one suite for your selection of accommodation. All rooms are gathered around the pool area. Adorned with home comforts and modern conveniences that served both to create ambience and your pleasure.

All rooms are featuring the comfortable King / Twin Bed, private balcony or terrace, Television, Air-conditioned, Bath-tub and Shower with cold and hot running water, Mini Bar, Umbrella, Sofa at Suite Room.