Recreational Facilities and Guest Services:
Guest services and recreational facilities include : twin swimming pools, restaurant and bar, private secluded beach club, library, information and business center lounge, car rental, bicycle, non motorized beach equipment, giri loka spa, Club Arena fitness and health center, daily guest activities, and more
.Bali Aga Beach Club
Positioned in a wide, curving cove end of Nusa Dua Beach, the Beach Club is just five minutes away from the resort. The wide sandy beach is exlusive to hotel guests and is dotted with pandanus trees and comfortable sun loungers, shaded by thatched beach umbrellas. Various non-motorized beach equipment are available for guests. Snacks and light drinks are available throughout the day at the Beach Bar. Complimentary shuttle service is available.
Food and Bevarage :
Telaga Waja Restaurant:
This cozy new restaurant, overlooking swimming pools, offer a sampling of the most tasteful dishes across the Indonesian archipelago. By day, a la carte dishes have a western and international focus, while the evening selection includes cuisine from the Spice Islands of Indonesia. Guest may choose air-conditioned, indoor dining or outdoor dining on the terrace two large private pavillions are available for lesehan-style dining with rijstafel, theme and cultural performances. Open daily for breakfast, lunch and dinner.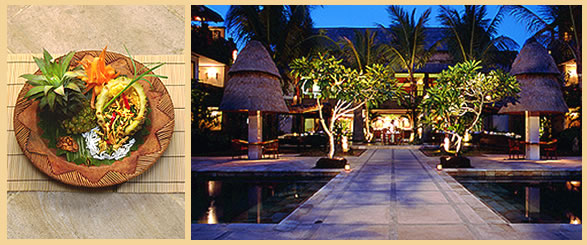 Giri Loka Spa
Returning to the origional spa origin, Sanus Per Aquam, Bali Aga is the Giri Loka Spa Management's flagship facility. Water is the focus this concept, with only the highest quality natural and traditional treatment ingredients delivered with uncommon relaxing and rejuvenating therapies.

Fitness Center
The state of the art fitness and health center offers complete gymnasium fitness facilities, training and studio aerobics. Facilities also include a fitness center pool. Membership is available offering benefits for fitness facilities, food and beverage discounts, room rate savings and more.

La Boutique
Retailing the finest arts, crafts and designs from Bali and beyond the island, this unique boutique features the work of four leading designers, natural handicrafts and materials including pearls and silver. Custom design resort wear are also available.