Where traditional Balinese house sit perched high on the face of a hill in a hibscus-filled compound connected by meandering stone paths, where soft strains of gamelan music help you drift.
Far, far away..... where averdant vista of emerald green terraced ricefields cools your eyes and soothers your soul where the magnificient Ayung River runs both slow and fast 400 feet from your doorstep and where coconut trees silhouette the night with their stark shadows.
"It was no dream, it seemed" This dreamscape does exist at Sayan Terrace the best kept secret in Bali.
| | | |
| --- | --- | --- |
| | | |
| | | |
| | | |
Let us welcome you with traditional Balinese hospitality to any of our 12 cottages and terrace rooms, each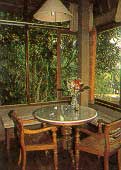 uniquely different but featuring the same airy architecture and large open verandahs that are a characteristic of Balinese design.
Our rooms are equipped with hot water showers (some with western bath) and telephone.
Our family rooms offer a small kitchenette.
All room rates include complimentary breakfast featuring both local and western favorites.
Facsimile and laundry services
For further information, please contact us:
SAYAN TERRACE
Sayan Ubud - Bali
E-mail:sayan@indo.com
Copyright © 1995 - 2001 Indo.Com - All rights reserved