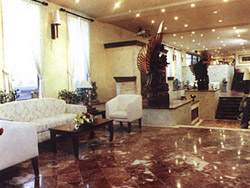 Address :
Terminal 2E, Soekarno - Hatta International Airport
Jakarta 19110 - Indonesia
e-Mail: qualitybandarajkt@indo.com

Welcome to Jakarta Airport, Indonesia!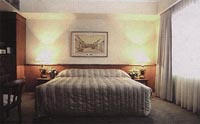 Location:
Right above your arrival gate! Main entrance is at second floor of Meeting Point Terminal 2E, Jakarta International Airport
In the hustle and bustle of the Jakarta International Airport "Soekarno - Hatta", Quality Hotel Bandara - Jakarta is located conveniently right above your arrival gate in the Meeting Point of Terminal 2E. No worries or transport to pay, because this unique hotel really lies along the upper floor of Terminal 2. From the windows along the hotel you can see the planes landing and taking off. We are here to give you comfort while you are traveling.
Guest Rooms
The 82 guest rooms and suite are well equipped with sound proofing, TV with online flight schedule, with HBO and NHK channel, in room safe, controllable AC, IDD telephone and a nice bathroom. Coffee maker and minibar facilities are available at Deluxe and Suite Rooms.
Facilities and Services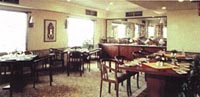 The hotel provides you with Restaurant, which also serves 24-hour Home Delivery Service (Room Service), Bar & Lounge, small Meeting Room (for max. 10 persons), Business Centre Corner, Laundry and Drycleaning, Massage Service, Luggage Room, Airport Assistance as well as free Shuttle Car to and from domestic and international terminal.
Memorable Casual Dining while Waiting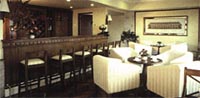 Experience the finest traditional Indonesia cuisine, as well as the favorite international dishes including Chinese & Japanese menu at the Kakatua Restaurant.
While at the Jet Lounge Bar, you can enjoy the refreshing beers and cocktail, finest coffee and tea, superb wines to accompany your delicious snacks.
The warm and friendly atmosphere and fascinating sight at Kakatua Restaurant and Jet Lounge Bar overlooking the airport runway will enhance you while you are waiting for your next flight or meeting somebody at the airport.