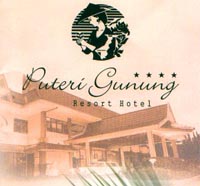 Office Address:
Jl. Raya Tangkuban Perahu Km. 16/17
Lembang - Bandung 40391
PO. Box 8423 Indonesia
Telpon: (62-22) 278 6650, Fax: (62-22) 278 6902
Jakarta Sales Office:
Central Cikini Building
Jl. Cikini Raya 58 - 58A
Telpon: (62-21) 323 432, Fax: (62-21) 310 0004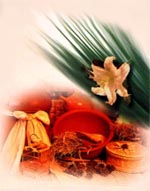 THE RIGHT CHOICE FOR A PERFECT HOLIDAY
Experience of a Lifetime
Puteri Gunung or "Beautiful Mountain Girl" is a Four Star Hotel, located in Lembang, West Java, a mountain resort and home of the graceful people with a distinctive cultural heritage. Away from the hustle and bustle of the crowded centers, Puteri Gunung Hotel offers you maximum leisure, comfort, and friendly services.
Mountain Magic
Nestled in a unique setting or beautifully designed and neatly preserved tropical gardens with its fresh mountain air, Puteri Gunung Hotel boasts 107 bedrooms, overlooking the most scenic panorama.
Our Beautiful Mountain Girl offers plentiful activities to suit your mood, like mountain trekking with visits to nearby villages and tea-plantation, rice-fields, or just relax, enjoying the tranquil surroundings.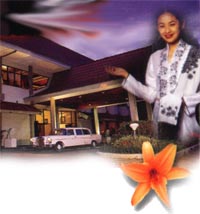 Friendly Smiles to Welcome You
Gracious and attentive service await the visitor at our doorstep. The true smiles of our staff say it all. Putri Gunung Hotel prides itself for being recognized as a hotel with a "personal touch" - in dealing with our customers' requests.
A Little Adventure a lot of Holiday
Modern facilities to cater for your convenience, comfort and individual preferences. For lovers of outdoor sports there is a swimming pool, tennis court, hiking and jogging tracks. Conference and banquet facilities. There is also a shopping arcade, outdoor stage with local dances, playground, discotheque and a traditional wooden puppet workshop.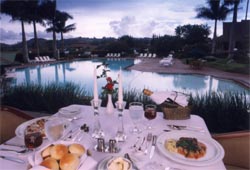 LOCATION
Situated in Lembang, north of Bandung amid 5.2 hectares of lush tropical garden. It has a nice and well arranged garden united firmly with nature, fresh mountain, clean air, cool climate between 150 C - 200 C on 4000 feet plateau. Close proximately to major recreational spots. Puteri Gunung Hotel Lembang is truly the right venue for conference and leisure.
LOCATION FACTS
03 hours from Jakarta by car
20 km from Central Business District
18 km from Airport
16 km from Railway Station
16 km Ciater Hot Spring
08 km from Mountain Tangkuban Perahu
05 km from Maribaya
03 km from Poltak Golf Course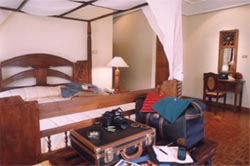 ACCOMODATION
108 rooms, including 01 Executive Suite, 03 Garden Suites, 08 Suites, 18 Deluxe Cottages, 78 Standard Cottages
Four Star service in all rooms furnished with satellite TV, mini bar, refrigerator, international direct deal, private bath / shower, balcony mountain views, and 24 hours room service
RESTAURANT
Restaurants to suite your taste, featuring local cuisine, such as Rijsttafel, tasty and different foreign cuisine with a slightly local flavor.
LOUNGE
Aroma Coffee Lounge available in lobby area offering variety of Indonesian Coffee and Snacks
RECREATIONAL FACILITIES
Sport facilities including outdoor swimming pool, tennis court, badminton, volley ball, mini foot ball, aerobics, jogging tracks, and hiking
NIGHT ENTERTAINMENT
Renaissance Bar, Discotheque, Karaoke open daily from evening until midnight
BUSINESS CENTRE
Elegantly finished private room supported by state of the art business facilities
CONVENTION
07 function room which can be in any style. Outside banquet accommodation up to 1000 guests