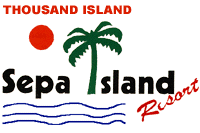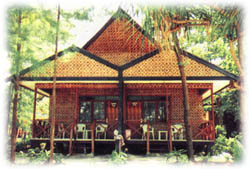 Every once in a while, you probably feel the need to break away from the ordinary, to do the unusual, to touch the nature, Sepa Island has it all…."Nature"…. and has long been admired for while sandy beaches, crystal clear water surrounding and teeming with marine life.
Sepa Island has outstanding while sandy beaches for sunning, turquoise water surround for swimming and snorkeling. The crystal clear water, corals reef formation and teeming with interesting marine life make Sepa Island and surrounding popularly known as a PARADISE FOR DIVER.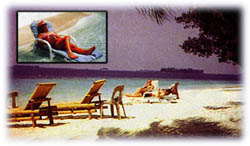 Inexpensive boat dives from Sepa Island to the dive spot is available at SEPA DIVE SHOP which guaranteed all equipment in good condition and full time experienced certified dive buddy.
ACCOMODATION
There are 43 neat and clean air-conditioned cottages built in small native design with private showers, a lavatory and terrace facing to the sea.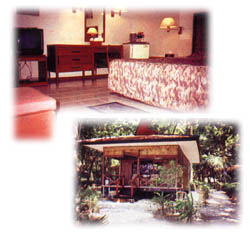 ROOM CHECK IN / OUT SCHEDULE

Check in : 02.00 PM
Check out : 12.00 AM
TRANSPORTATION
Sepa Island is reachable by speed boat in about 90 - 120 minutes from Marina Anco.
BOAT SCHEDULE

Marina Ancol - Sepa Island : 08.00 AM.
Sepa Island - Marina Ancol : 02.00 PM.