BANDUNG - INDONESIA
Office Address:
Jl. Asia Afrika 81, Bandung 40111, West Java
Telephone: (62-22) 4231631, Fax: (62-22) 4230034


Japanese Version
GRAND HOTEL PREANGER
It has been half a century since Bandung's famed Preanger Hotel first gained an international reputation. Designed in the Indische Empire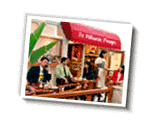 style, it opened on Jl. Grooten Postweg (now Jl. Asia Afrika) in the 1920s. Later, it was redecorated with new art deco flourishes and a new name: Grand Hotel Preanger. In 1987, the Grand Hotel Preanger became part of the Aerowisata Group and was again renovated extensively.
Today's Grand Hotel Preanger reflects a pleasant blending of deco design and Sundanese touches. Two historic sections - the Asia Afrika Wing and the Naripan Wing – have been joined by a gleaming new high-rise tower and public areas (lit by magnificent stained-glass skylights).
LOCATION
Right in the heart of historic Bandung, the hotel is within walking distance to most of the business and financial district and close to shopping center. It is just 10 minutes by car from the airport or the train station.
HOW TO GET THERE:
It is three hours by executive train, or four hours by road from Jakarta.
OTHER FACILITIES