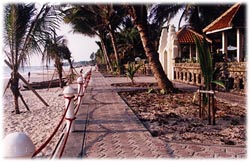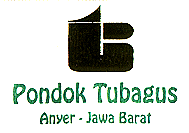 Address :
Pondok Tubagus Reservation Office
Ruko Fatmawati Mas I/118
Jl. RS Fatmawati I No. 20, Jakarta Selatan
Phone : (021) 765 4920, 769 2639, Fax : (021) 769 2640
Pondok Tubagus Resort
Jl. Raya Karang Bolong Km. 1.39
Desa Bandulu, Anyer Jawa Barat
Phone : (021) 601 776, 600 688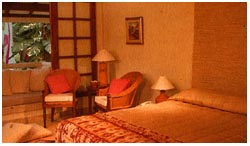 Located at desa Bandulu Anyer, Jawa Barat, Pondok Tubagus is within two hours drive from Jakarta. It offers you the warmth of Jawa Barat's spirit in secluded haven by the beach, overlooking the historical Mt. Krakatau. With only 4 luxurious suites, 6 beautiful and unique cottages plus 2 romantic outdoor tents, we guarantee exclusivity and privacy of our guests, making their stay an unforgettable experience.
Fresh earth colours and simple details adorned the interior of the suites and cottages, exuding the warmth of the place ethnicity. An open air bathroom, enclosed in lush greeneries will also add a unique experience in bathing.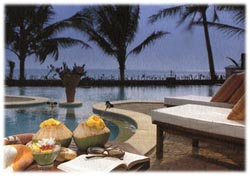 Standard suites with double/twin beds are also available, with their own luxurious verandas for relaxing while enjoying the view.
For those who love adventure, our tropical outdoor tents will be a perfect choice. A very romantic day bed, equipped with a shower room, telephone, vanity unit and a private storage unit.
What could be more inviting than a beautiful pool right next to the beach? Enjoy your swim while the sun sets delicately on the golden horizon.