The endless places of pleasure born in the prosper land of Anyer known as "Nuansa Bali". A best beach resort cottage and bungalows.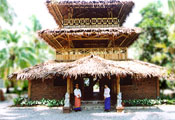 The pride of Anyer surrounded by a stunning panorama of Anyer Beach. All accommodation are two air conditioned bedrooms, living room with TV, dinning area, shower, bath, kitchen, and even the dishes.
All you have to bring is family and your desire for fun. A club house with Bar, Discotheque, Karaoke, Restaurant is central to all holiday houses.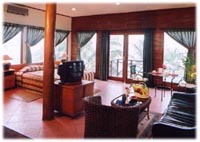 Amenities for you and the family include:
23 cottages
14 bungalows
Swimming pool
Playground
Sandy beach
Club house & Restaurant
Beach games
Meeting rooms and Banquet facilities
24-hours room service
Parabola
Jetty
Water sport facilities
Round the clock security
Nuansa Bali has also luxury bungalows overlook the swimming pool, open concept suite room with beach view, and one and half hectares of private beach resort with the comforts of home because they are homes resort.
Point of Interest:
Anak Krakatau Volcano. Two hours boat ride from the resort.
Ujung Kulon National Park. Two hours boat ride from the resort.
Mesjid Agung Banten. The Grand Mosque of Banten built in 1558.
Badui magic villages.
Labuan fishing village.
Karang Bolong Rock
Reservation: