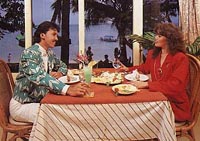 Located only several minutes away from a beach, the Merak Beach Hotel provides a romantic and exotic place to rest. From a terrace, you can see a spectacular sunset over the beach, while enjoying your favourite long-drink, "Lover's Special Merak Beach Coconut Punch". Friendliness and hospitality will greet you, making sure your stay is as comfortable and relaxing as possible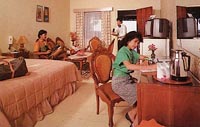 The hotel rooms are equipped with controlled air conditioning, private bath room, cold and hot water, sound system, colour televisions, satellite system and video program.
The hotel restaurants offer the delight of exquisite Indonesian specialties as well as European and Sea Food dishes. Here, you can also relax with a drink in a Cosy Bar.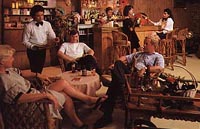 The Terrace Café serves everything from a cup of coffee to a full-course meal. For your Diner Party, the hotel also offers "Moonlight Bay Terrace Barbeque".
The Merak Beach Hotel also offers a good variety of outdoor activities, including and wind surfing, fishing and golf.