For a large scale event, the ballroom with 10,558 square feet, is second to none in Jakarta. For local guests, there are two floors of underground parking with almost 600 car stalls and a direct elevator link between the parking and the ballroom levels.
Unlike any other meeting facility in Asia, The Regent Ballroom offers a private elevator linking The Ballroom with The Regent Suite. For visiting dignitaries, celebrities or royalty, this offers a considerable increase in security as the guest has no need to pass through any public areas either for registration or official appearances.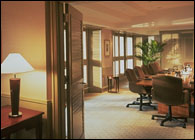 The Ballroom can accommodate up to 912 people for a sit down banquet, 1100 for a theatre style conference or 2,000 for a stand-up reception. In front of the ballroom is a 3,624 square foot (337 sq. m) pre-function area, which can be used as a registration area or can be used for events with a capacity of up to 400 people.
An added consideration for organisers is the ballroom's eight simultaneous translation booths, which make the hotel a prime location for high level international conferences. Projection rooms along two walls of the ballroom facilitate the production of high-tech shows or events, such as fashion shows, where the ability to manipulate lighting is paramount.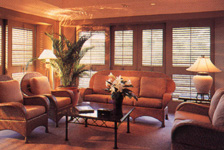 For small functions, the four Palm Court meeting rooms which look out onto the Palm court offer conference space for between 8 and 14 people. A connecting door in Palm Court III leads to the Palm Court lounge which can be used for refreshments or a buffet lunch. All the Palm Court rooms include a private foyer, office, restrooms, a meeting area and garden patio.
Jakarta Dining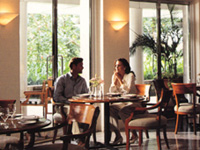 The Steakhouse
Has an unswerving commitment to quality and serves the choicest prime beef and the freshest seafood, meticulously prepared in our wood-burning open-grill kitchen. The restaurant has a lively décor, described as a cross between New York slick and Irian Jaya Stone Age -- energetic and vibrant.

Asiatique
Jakarta's foremost dining experience, renowned for its culinary infusion of Asia-Pacific's most imaginative cuisine and frequented for its exclusive private dining rooms.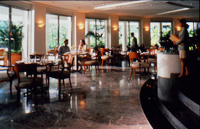 Seasons Café
Overlooking the pool terrace, this all day dining restaurant has a menu that reflects the best of Indonesian, Asian and international cuisine.
The Bar


The perfect place to rendezvous for a refreshing draught from our wide range of international beers or the house specialty, flavoured Vodka martinis, your choice from fourteen different flavours.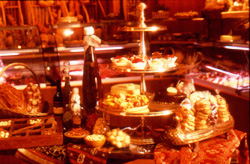 The Regent Pastry Shop & Deli
The perfect place to meet friends and enjoy a wide variety of sandwiches as well as delicious pastries, chocolate treats, truffles and home-made ice cream.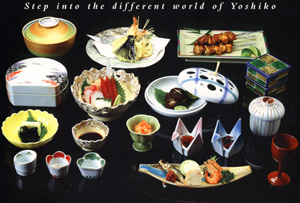 Yoshiko
Located on the second level, Yoshiko presents an authentic variety of Japanese dishes. Private tatami rooms are available for private dinners.

The Wine and Cigar Shop at The Regent Jakarta
Jakarta, June 2000 - After months of planning , creating , building and training, The Regent Jakarta is proud to announce its new outlet just recently born, The Wine and Cigar Shop This additional outlet to the hotel is a retail shop offering a splendor of fine wines and excellence selections of Cuban and Dominican cigars, yet the same bar, where guest can enjoy wine by the glass.
The shop itself covers 65 square meters of space located at the lobby level of the hotel, neigbouring the popular Pastry Shop and Deli, The Regent giftshop, and the prestigious Christie's office. A cozy ambience is offered with its wooden parquet floors and ceiling furnished with ethnic yet modern interior , meticulously designed by Archi Deco
French , Italian, Californian and Australian wines can be found at this shop, with a price range from Rp. 148,000 until Rp. 15,500,000 ( for the very rare bottle of Chateau Petrus, Crus Exceptionel Pomeriol 1982) A quality selection of everyday red and white wine, as well as Connoisseur wines . Champagne from Moet et Chandon and Veuve Clicqout is surely available at very attractive prices
Available by the glass to enjoy at the shop are the likes of Rosemount Estate Chardonnay 1999, Nuits St. Georges 1er Cru Perdix 1996, Burgundy, and Chablis 1er Cru "Cote de Lechet" To enhance the taste of the wines, an array of "lights bites" are on offer at the Shop. Double Cream Brie Cheese, Duck Terrine, Oysters or Sushi & Sashimi, are just a few of the delicious items to mention.
Cigar smokers would be please to learn of the fine selections of Cuban and Dominican cigars; Montecristo Especial, Romeo Y Julieta Coronas, as well as Davidoff Grand Cru and Davidoff Special T Cello D-F. For the ladies, the more feminine Montecristo or Hoyo De Monterey Du Maire may be more appealing in elegance. Cigars of high quality and exclusive packages range from Rp. 160,000 until Rp. 6,300,000 per box. For individual cigars, the price starts from Rp. 38,000 to Rp. 252,000 per piece.
The wine and cigar Shop at the Regent is a wine bar and retail outlet with customary wines as well as exclusive wines, with attentive and knowledgeable staff who were internationally trained especially for the Shop. Best quality Cuban and Dominican cigar to enjoyed at the shop or treasure them as collectors items Souveneers and gift ideas are also available from Davidoff and Austriche (cigar cases and cigar cutters). Riedel wine glasses can also be purchased at the little shop. The wine and Cigar Shop is open from10:00 until 23:00 hours.
HOME
MEETING & DINING
RESERVATION
---
Copyright © 1995 - 2000 Indo.Com - All rights reserved