Bukit Biru Resort:
A Great Place for Family Holiday.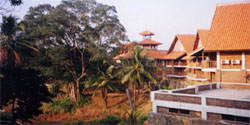 If finding a refreshing place for a family holiday is now in your agenda, Bukit Biru Resort would be a good choice. This resort blends a panorama of hills and beach that serve as the perfect contrast to the hectic pace of the city, with fresh mountain and sea breezes to blow away the cobwebs.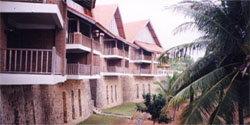 Bukit Biru Resort is easily accessible on Jl. Raya Pantai Anyer KM 145, Serang, Banten in West Java. Opened in 1998 on two hectares of land, the buildings have been styled to blend traditional and modern architecture, providing 20 spacious rooms: 12 Deluxe rooms and eight Suites. Each room is equipped with controlled air conditioning, refrigerator, international TV programs and two queen-sized beds. Hotel restaurants offer local and Chinese food, and for those of you seeking night life, several cafes offering live music are within easy reach.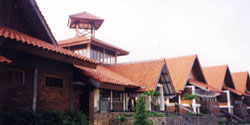 As a beach resort, the hotel offers a good variety outdoor activities, including swimming, surfing, beach volleyball and basketball; a children's playground and Olympic swimming pool are also now under construction. From Carita bay, you can also get to Saughyang island in Ujung Kulon, where snorkelling, diving and boating are all available.

Reservation: