Alam Sari Hotel Bali
Tromol Pos 03, Gianyar 80561, Bali - Indonesia
Tel/Fax : (62-361) 240308 * Email: alamsari@indo.net.id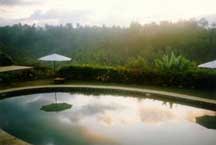 In Indonesia Alam Sari, means "natural essence". At Hotel Alam Sari Bali we believe the essence of Bali lies in the natural tropical beauty and unique culture of the island. Our aim is that our guests will experience this while enjoying the modern amenities and friendly atmosphere we provide.

A beautiful, undisturbed rural environment where you can walk down village lanes, through an idyllic rural landscape and experience the friendliness of Bali's people and its unique culture in peace and quite.


LOCATION
For those seeking rest and relaxation, the cool green hills north of Ubud in Central Bali create a secluded retreat. At Alam Sari wake to the sight of mount Agung. Bali;s sacred mountain, and the magnificent views that our hilltop setting provides. Experience Bali at its unspoiled best in the peace, tranquility and beauty that Alam Sari offers.

Alam sari is a 10 minute drive from the artists village of Ubud where many shops sell a wide range of local art, craft and other products. Every night Ubud and its surrounding villages host a range of cultural performances.

From Alam Sari, the beach resorts of Kuta, Sanur and Nusa Dua are just over an hour's drive away while many other places of interest in Bali are less than an hours drive.

[ Rates | Facilities | Reservation | What Others Say ]




[.Home.] [.Hotels.] [.Food.] [.Money.] [.Events.] [.Resources.] [.Jakarta.] [.Industry.]

Copyright © 1995-1997 Bali Online