The Art Museum of Bali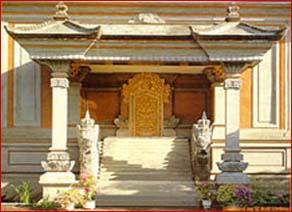 TO ALL WORLD TRAVELLER
"BALI WELCOMES THE THIRD MILLENIUM"
Calender of Event | Exhibition Program
Rudana Museum and Rudana Fine Art Gallery is set in a peaceful and tranquil atmosphere, surrounded by rice paddies. It features an outstanding collection of Balinese art in classical, traditional, and naive style and also Indonesian contemporary paintings.
As personal touch, meet the artists at work on the gallery grounds.

Profile / Museum Rudana / Rudana Gallery / Genta Gallery / Contact Us
Click the Image
MUSEUM RUDANA
The Rudana Museum, opened on Dec 26, 1995, is a splendid accomplishment of the Nyoman Rudana and Ni Wayan Olastini , who have exhibited tremendous dedication in their 21 years of work promoting Indonesian, especially Balinese, arts and artists. The Rudana Museum was officially inaugurated on 26th December 1995 by His Excellency The president of the Republic of Indonesia in conjunction with the commemoration of the 50th Golden Independence Anniversary celebration of the Republic Indonesia as a token of dedication and love to state, nation and the art.
RUDANA FINE ART GALLERY (UBUD - BALI)
The Rudana Gallery was born 25 years ago in Sanur, and was moved to its present location in Peliatan in 1978. Its major purpose has always been to support living artists throughout Indonesia and particularly those of Bali. It continues to exhibit and promote contemporary paintings in Indonesia, classic, traditional, and modern. The Gallery's collection includes the works of I Gusti Nyoman Lempad, Affandi, Supono, Antonio Blanco, and more.
GENTA FINE ART GALLERY
The moving spirit of Genta Fine Art Gallery inspiration comes to us, travelling out in waves, like the sound of a bell ringing. Fine painting sparks a feeling of understanding between people. The beauty of this understanding moves us to experience as well as create harmony in our worlds. At Genta Fine Art Gallery, you are invited to be witness to a new emergence of inspiration & artistic activity. Genta Fine Art Gallery is "The Place for the Art Lovers".



[.Home.] [.Hotels.] [.Food.] [.Money.] [.Events.] [.Resources.] [.Jakarta.] [.Industry.]

Copyright © 1995-1997 Bali Online