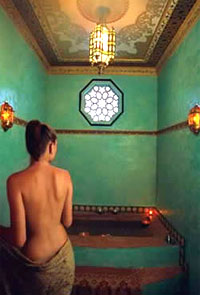 PRANA SPA A decor inspired by the legendary Moguls of Rajistan ushers you into a world of divine opulence. As you enter our lofty courtyard, the full meaning of Prana will be revealed to those in search of something different and profound. A relaxed yet strangely exotic atmosphere is before you.

Prana Spa itself is a bewildering riot of colours combined into the traditional decor of Islamic arches and corridors; an amazing fantasy world to fulfil your dreams of exotic pampering by our skilled Balinese therapists.

There are private areas for ladies and gentlemen and double rooms for couples enjoying the experience together. Trained therapists ease away your stress and tension with a wide range of treatments and therapies.Everything from traditional Balinese massage to Ayurveda with special oils and scrubs imported from India will transport you to a stress free mental plane some call Nirvana.